Yesterday I noticed I had some bananas lying around that were getting too old to eat, so it was time to make some banana bread! This is the first time I have made banana bread from scratch so I was curious how it would come out. Turns out it is incredibly easy to make and comes out fantastic. I chose to make it without the walnuts, but I think I will be adding them in for the next batch.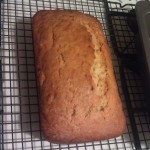 Banana Bread Recipe
Ingredients:
2 cups all-purpose flour

1-1/2 teaspoons baking powder
1/2 teaspoon baking soda
1/4 teaspoon salt
1/4 teaspoon ground cinnamon
1/8 teaspoon ground nutmeg
2 eggs, beaten
1-1/2 cups mashed banana
1 cup sugar
1/2 cup cooking oil or melted butter
1/4 cup chopped walnuts (optional)
Directions:
Preheat oven to 350 degrees F. Grease bottom and 1/2 inch up the sides of one 9x5x3-inch or two 7-1/2×3-1/2×2-inch loaf pans; set aside.
In a large bowl combine flour, baking powder, baking soda, salt, cinnamon, and nutmeg. Make a well in center of flour mixture; set aside.
In a medium bowl combine eggs, banana, sugar, and oil. Add egg mixture all at once to flour mixture. Stir just until moistened (batter should be lumpy). Fold in nuts.
Spoon batter into prepared pan(s). Bake for 55 to 60 minutes for 9x5x3-inch pan or 40 to 45 minutes for 7-1/2×3-1/2×2-inch pans or until a wooden toothpick inserted near center comes out clean (if necessary, cover loosely with foil the last 15 minutes of baking to prevent overbrowning).
Cool in pan on a wire rack for 10 minutes. Remove from pan. Cool completely on a wire rack. Wrap and store overnight before slicing.