I purchased a little present for myself last week, something I have been wanting for awhile. I bought an internet security firewall router, a SonicWALL TZ 180. These devices are more of a business class type router. They are simple to configure like  a Linksys or Netgear, but due to the pricing and annual security license subscription its out of most home users league.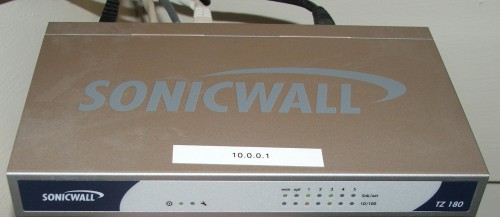 I work with these devices and larger models at many of our clients. We have actually started using these over Cisco routers because of the added security features. The SonicWALLs actually stop spyware, viruses and other malware before it even hits your internal network, kind of like Symantec for your router. This is a huge help because your computer based anti-virus can only do so much sometimes to try and stop malware. The SonicWALL is great for business environments because it will check incoming and outgoing traffic for malware, so no computer on your internal network can start spamming the world and getting your mail server blacklisted.
I chose to get this device for extra security. All of my computers are clean and always have been, but that is because I am an experienced computer technician, so I know what to do and what not to do. This SonicWALL stops other computers from potentially making my network unsafe and securing my very valuable documents on my hard drives now that I am pretty deep in some web development.
To read more on the SonicWALL TZ 180 please visit their website here, or just go to www.sonicwall.com to view their other products. If you are interested in purchasing this device, or similar ones, you can do so here.