While at work today I had to change the serial key on one of the computers. I took the computer from an old building in Vermont and moved it to their new location.
When I started it up It was getting this nice error message:

Since it's a three and a half hour drive home and it's already 7PM, I didn't want to waste time formatting and reinstalling. The old company used a volume license key but I just wanted to blow that out and use the OEM key that was on the side of the case. It's the legal key that came with the computer, everything still factory built, not just some spare case.
Here is what you do to change the serial key:
Download the following file from here. Just select your OS (Vista or XP), agree to the terms and hit download.
What is good about this new way of updating the serial number is that it will check the system files for anything that is out of order. This is important because many cracked versions of XP will have hacked system files that will keep important updates from being applied. The old way was a script file that could be run to change the key. The old scripting way can be found here.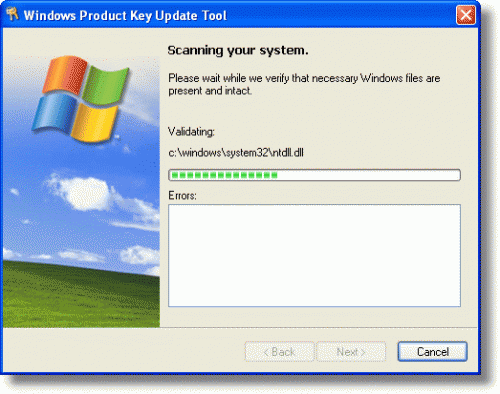 Once it is finished it will ask you for the new key.
Enter the key click finish and it will make the change and reboot. Now that the serial number is updated you will no longer receive the warnings from Microsoft, and updates will be properly applied.
Source: www.intelliadmin.com