So LA won last night. Oh well, they did deserve it. They were by far the best team this year, I just wasn't rooting for them. Not a fan of the whole Beckham, but damn he is a good player. It was Donovan that came through with the winning goal. No wonder LA wins with that guy on their team, being the whole US captain and all.
Can't wait till next year when Beckham is gone to see how well LA does.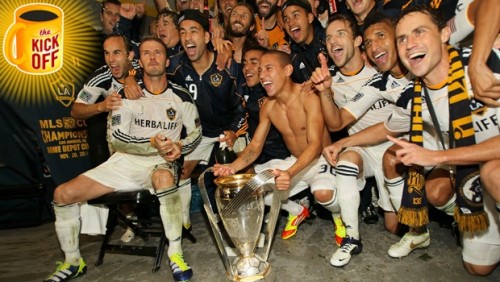 Scoring Summary:
LA — Landon Donovan 3 (Robbie Keane 1, David Beckham 4) 72
Misconduct Summary:
HOU — Bobby Boswell (caution; Handball) 13
LA — Adam Cristman (caution; Reckless Tackle) 40
HOU — Andre Hainault (caution; Reckless Foul) 74
LA — David Beckham (caution; Tactical Foul) 82
LA — Landon Donovan (caution; Delaying a Restart) 94+
Lineups:
Houston Dynamo — Tally Hall, Andre Hainault, Bobby Boswell, Geoff Cameron, Jermaine Taylor, Danny Cruz (Colin Clark 78), Luiz Camargo, Adam Moffat, Corey Ashe (Je-Vaughn Watson 84), Brian Ching, Calen Carr (Carlo Costly 66).
Substitutes Not Used: Will Bruin, Hunter Freeman, Eddie Robinson, Tyler Deric.
LA Galaxy — Josh Saunders, Sean Franklin, Omar Gonzalez, A.J. DeLaGarza, Todd Dunivant, Landon Donovan, David Beckham, Juninho, Mike Magee, Adam Cristman (Chris Birchall 57), Robbie Keane.
Substitutes Not Used: Gregg Berhalter, Paolo Cardozo, Frankie Hejduk, Jovan Kirovski, Michael Stephens, Donovan Ricketts.
Referee: Ricardo Salazar
Referee's Assistants: Craig Lowry; Peter Manikowski
4th Official: Hilario Grajeda
Attendance: 30,281
Time of Game: 1:52
Weather: Rain and 53 degrees