I'll be nice and keep his age secret, although I think he wouldn't mind, it's my mother that would kill me!
This past Saturday was my father's birthday. Typically Father's Day and his birthday fall on the same weekend, but since Father's Day was a week early this year we had to celebrate them separately. It's not so bad, just more cake and ice cream for everyone.
His major gift was the NASCAR tickets given to him on Father's Day (it all stems from the days typically being together), so we had to just get him a little something to open with cake. He likes cigars and the lottery so it was one stop shopping to Smokes-4-Less over by Marist College. I like that Smokes-4-Less best because it is bigger than all the rest and has a walk in humidity controlled cigar area. I picked him up some various styles of the Romeo & Juliet cigar brand that he enjoys along with a bunch of scratch-offs.
We went out to dinner to the newly opened Red Robin on Route 9 near the new CRM building. I have had the pleasure of eating at a Red Robin before so I knew how great the burgers were. We went a little early because that place is still packed with about an hour wait if you go at the "typical" dining time, even though it has been open for a few months now.
Here's the classic overly decorated Hannigan ice cream cake. I have no clue how it started, but regardless of who's birthday it is we get an ice cream cake, with or without regular cake as well. It's a good tradition, I love ice cream cake.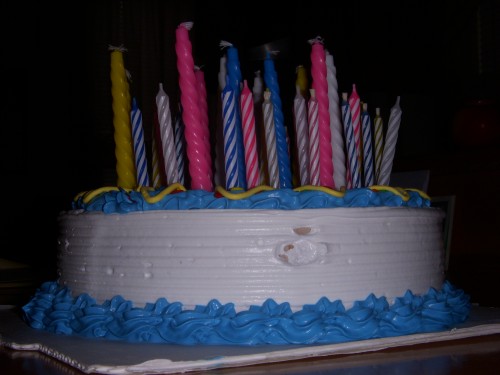 It was so nice out we decided to enjoy the evening outside. We had cake, ice cream and coffee while he opened his gifts. Afterward Jamie and I kicked around the soccer ball till dark.